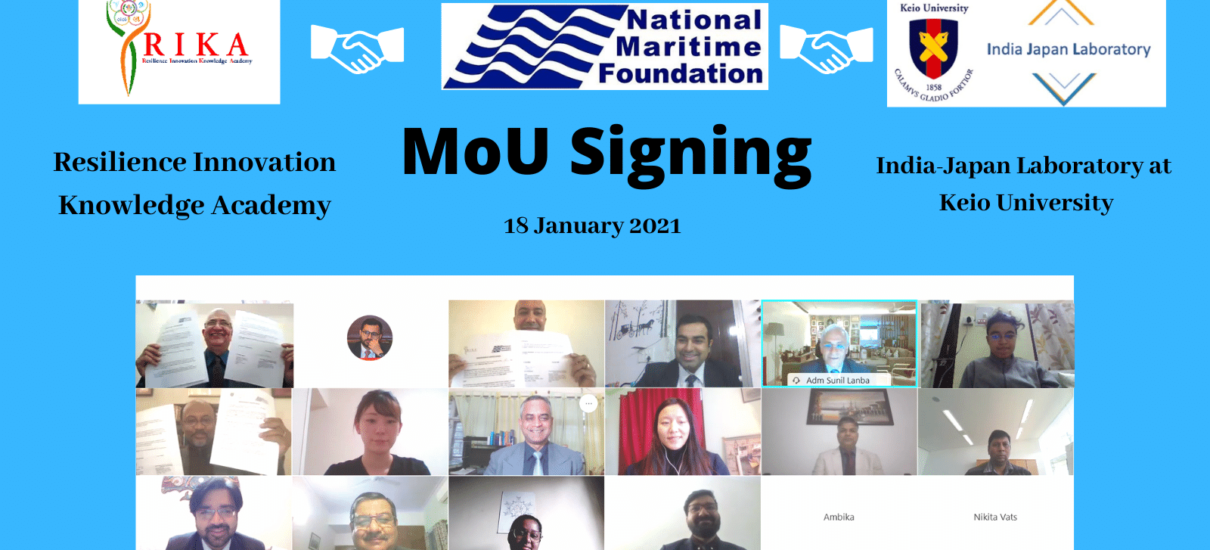 Keio University established India Japan Laboratory (IJL) to enhance education, research, innovation and entrepreneurship potentials between India and Japan, especially targeting students and professionals and business sectors and in both countries. The laboratory aims to undertake cutting edge bilateral / multilateral research on different topics, and to enhance higher education collaboration and partnership, and facilitate exchange of intellectual capital. The lab collectively addresses, analyzes, learns and nurtures the issues related to India and Japan and beyond, and make it more relevant to the global communities under three key pillars:
Environment, Development, Economics, Disaster Risk Reduction, and Climate change

Existing, New & Emerging Technologies (Data Science, AI, IOT)
Culture, Yoga, History, Art, Music, Film, Religion & Language
The RIKA has been established under 2013 Company's Act, and set up primarily to conduct research, innovation, training and awareness generation in the field of disaster risk management, climate change and sustainable development. The four objectives of establishing RIKA is listed below.
RIKA aims at enhancing the knowledge ecosystem for disaster resilience and environmental management.
RIKA engages in consultancy services, capacity building, knowledge generation and action research, product development related to disaster risk reduction and environmental management and creating and managing a network of disaster risk reduction professionals and practitioners.
RIKA acts as an enabler for the development of a local disaster risk reduction strategy (resilience action plans).
RIKA assists countries and local governments in monitoring and reviewing progress and challenges in the implementation of the Sendai Framework.
Over the past few decades, we are witnessing an overbearing pollution of the seas and contamination of the natural marine habitat, resulting in an adverse impact of climate change on the oceans. There has been increasing evidence of overexploitation of fish, dumping of untreated pollutants from land into the sea, ship-borne marine pollution, especially oil spills. The adverse impacts of climate change on the oceans are clearly visible and there has been increase in acidification, warming and de-oxygenation affecting the aquatic life and marine biodiversity.
All these issues call for a fresh approach, of a new model of socio-economic development that integrates conservation and sustainability. And that is where the concept of 'Blue Economy' and deeper cooperation for combating 'Climate Change' assumes greater significance.
Climate Change has become an all-encompassing aspect, and the subject is of great importance for India. It is heartening that India has been at the forefront towards addressing the effects of Climate Change, and thus continues to remain in the top 10 nations for the second year in a row, in the latest global Climate Change Performance Index (CCPI). This improvement in the ranking, from the 31st position in 2014, amply displays the thrust of India's journey towards addressing Climate Change.
The COVID-19 pandemic-linked lockdown and reduced travel and industrial activities, resulted in CO2 emission reduction globally, as well as pollution, in many cities. These have proven to be temporary respites but have confirmed where the problems arise from and where the possible solutions lie. Therefore, while the United Nations Environment Programme's (UNEP), 'Emission Gap Report' predicted a fall in CO2 emission reduction by 7% last year, the World is still heading for a temperature rise in excess of 3 deg Celsius this century.
The MoU with the India Japan Laboratory at Keio University and Resilience Innovation Knowledge Academy aims to conduct research, action & innovation on climate risk reduction, disaster risk reduction, resilience of coastal cities and ushering into a Blue economy model of development as an alternate model of sustainable development. The three core themes to concentrate our efforts and explore the potential for synergistic collaborations are:
Enhancing climate resilience of critical maritime infrastructure.
Promoting Blue Economy and Climate Adaptation as the central themes for international collaboration in the Indo-Pacific Region.
Promoting indigenous technological innovation to address maritime environmental issues.
We look forward to fruitful interactions and impactful results!
*******************
https://maritimeindia.org/wp-content/uploads/2021/01/MoU-Signing-1.png
900
1600
admin
https://maritimeindia.org/wp-content/uploads/2020/01/sm-logo.png
admin
2021-01-18 21:57:34
2021-06-09 20:25:00
THE NMF SIGNS MOU WITH THE INDIA JAPAN LABORATORY (IJL) OF KEIO UNIVERSITY & THE RESILIENCE INNOVATION KNOWLEDGE ACADEMY