Enhancing QUAD Cooperation for Sustainable and Equitable Utilisation of Marine Mineral Resources.
Authors: Ariyaningsih, Muhammed Sulfikkar Ahamed, Nikita Vats, Shayesta Nishat Ahmed, Dr Pushp Bajaj, Dr Chime Youdon, Dr Saurabh Thakur, Vice Admiral Pradeep Chauhan, Commodore Debesh Lahiri, Dr Rajib Shaw, Dr Ranit Chatterjee
Abstract: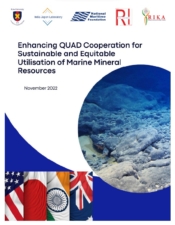 Under the framework of the Paris Agreement on Climate Change, and the post-Paris commitments made by several countries have, in aggregate, posted ambitious targets to reduce their greenhouse gases. However, the ubiquitous 'green growth' strategy, and the growing preference for renewable energy, have generated a pressing need for rare earths and specific metals such as cobalt, cadmium, and lithium.  The rapid surge in demand for critical minerals has posed a new global challenge driven by the global quest for energy-security.  Recently, the QUAD Member-States agreed to cooperate in funding new production technologies and establishing a global supply chain in respect of critical minerals.  Keeping this urgent need of rare metal in mind, this report analyses non-living marine resources in the Indo-Pacific and explores the manner in which the QUAD framework could be operationalised beyond the limiting-scope of hard security alone and encompassing a number of areas mutually identified by the four countries.  This study is, possibly, one of the first attempts to understand the potential and identify the challenges of utilisation of marine mineral resources.
This publication has been developed by a group of researchers and experts from Keio University's India-Japan Laboratory, National Maritime Foundation (NMF), the Resilience Innovation Knowledge Academy (RIKA), and RIKA Institute.
Click here to download the electronic version of the report.