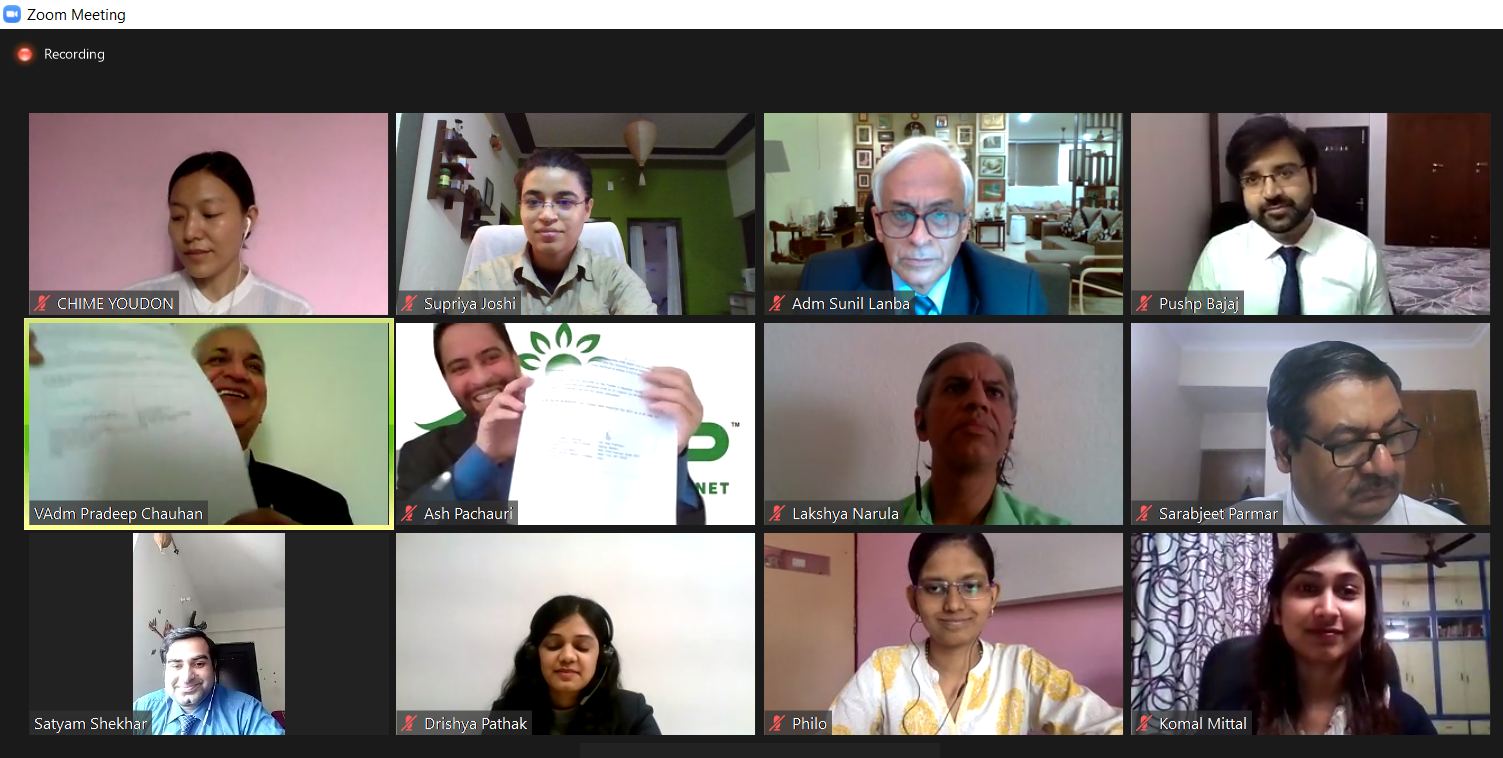 THE NATIONAL MARITIME FOUNDATION SIGNS MOU WITH THE PROTECT OUR PLANET (POP) MOVEMENT
We are pleased to announce the signing, on 09 July 2020, of a Memorandum of Understanding (MOU) between the National Maritime Foundation and the Protect our Planet (POP) Movement.  In a brief but succinct opening address, Admiral Sunil Lanba, PVSM, AVSM, IN (Retd), Chairman NMF and former Chief of the Naval Staff, provided both institutions with invaluable guidance for their future joint endeavours. The MOU itself was signed on behalf of the NMF by its Director-General, Vice Admiral Pradeep Chauhan, AVSM & Bar, VSM, IN (Retd), and, on behalf of the POP Movement, by its Senior Mentor, Dr Ash Pachauri. The NMF was also ably represented by its Executive Director, Captain Sarabjeet S Parmar, IN, and its Deputy Director, Cdr Anand Kumar, IN, as also by several other faculty members, all of whom contributed greatly to formulation of an action-agenda through which the MOU could be operationalised.
The POP movement aims to empower and enthuse the world's youth towards action-oriented participation in mitigating the human-induced impacts of climate-change.  The movement was founded by the late Dr Rajendra Kumar Pachauri, whose contribution to bringing the issue of climate-change on very nearly the top of the international agenda brought him universal acclaim.  For thirteen years, from 2002 till 2015, he was the Chairman of the Intergovernmental Panel on Climate Change (IPCC).  It was under his chairmanship that the IPCC was awarded the Nobel Peace Prize, in 2007.  Dr Ash Pachauri, the distinguished son of Dr RK Pachauri, is the Senior Mentor of the POP Movement and a master trainer in behaviour-change communications and strategic leadership.  He is a certified knowledge-expert on self-education, and runs his own video blogs, while teaching and training on a number of online platforms. He has been recognized by the United Nations for his dedication and leadership and is on the Boards and Advisory Groups of several prominent organisations worldwide.
The institutional collaboration established between the NMF and the POP movement seeks to further the aims of both institutions and encompasses varied formats along which research and advocacy on issues critical to India's ongoing endeavour to transition from a 'Brown' economy model to a 'Blue Economy'. Included with the intended ambit of the MOU is the identification of resilience-enhancing measures and practical mitigation-strategies to deal with the adverse impacts of climate-change, as also the advocacy of public-policy measures that involve all stakeholders, including the public at large, in monitoring and restoring the health of the oceans by reducing and eventually eliminating ocean-debris, especially plastic-debris.
We are enthusiastically hopeful and realistically expectant that this partnership will strengthen and advance the interests and activities of not just the two organisations involved, but those of India and its regions of maritime interest, as well, by promoting a culture of excellence in complementary areas of research, advocacy and public involvement.