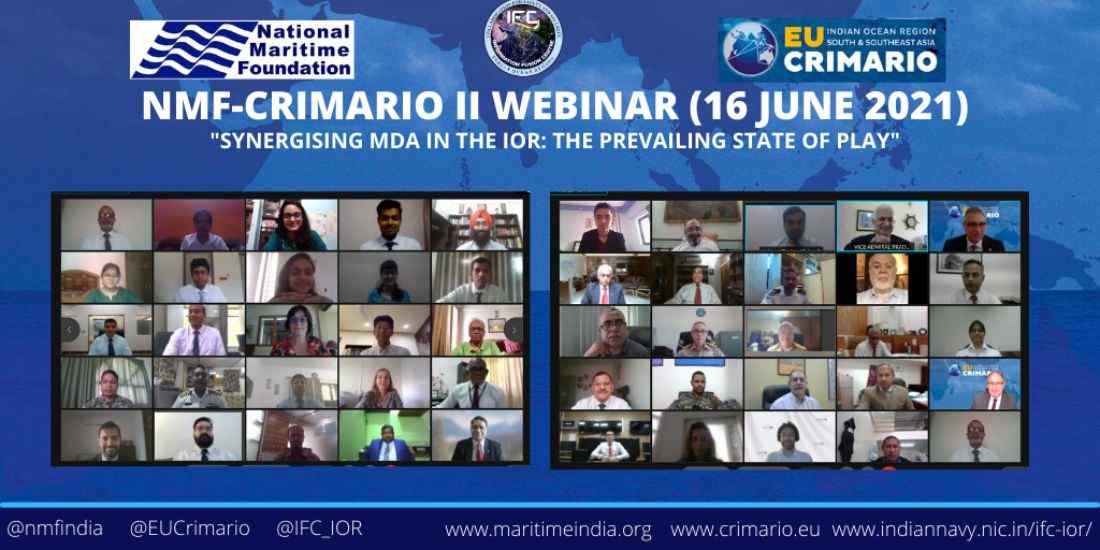 NMF-CRIMARIO-II WEBINAR ON "SYNERGISING MDA IN THE IOR: THE PREVAILING STATE-OF-PLAY""
Holistic maritime security is well understood to comprise freedom from threats arising 'from-' 'through-' or 'in' the sea.  These threats could arise from natural causes or from manmade ones, or from the interplay of one with the other, as exemplified by environmental degradation and global warming.  Insofar as the targets of such threats (arising from a lack of maritime security) are concerned, these could be individuals themselves — or 'groupings' of individuals, such as societies and/or nation-states.  While military maritime security does, of course, continue to enjoy primacy, it is now firmly established within a new construct that additionally incorporates political, economic societal and environmental dimensions of security.  Each of these dimensions of security is linked to the other by a complex web of causal relationships and none of them can be adequately addressed in isolation from the others.  Thus, threats to human-security, such as maritime crime incorporating, inter alia, the illicit trafficking of fuel, drugs, arms, and humans; piracy and international terrorism; illegal, unreported and unregulated fishing; environmental degradation; energy, food and water shortages; demographic shifts — whether caused by migration or by other factors; religious extremism; and so forth, all now figure prominently as threats that are inseparable from military ones.  When these threats address the regional fabric itself, nation-states find themselves increasingly enmeshed in a complex web of security interdependence, which tends to be regionally focused and a robust regional initiative ought to be a logical outcome of this regional focus.  Given that the inexorable rise of East African, South Asian and Southeast Asian economies will increasingly define the economic order of the globe, collaborative and cooperative initiatives that promote holistic maritime security are, perhaps, even more critical in the Indian Ocean than they are elsewhere.
An effective understanding of anything associated with the maritime domain that could impact its security, safety, economy, or environment is the sine qua non of all issues related to holistic maritime security.  This, indeed, is precisely how the International Maritime Organisation (IMO) defines Maritime Domain Awareness (MDA).  The Indian Ocean is now witnessing the flowering of a number of MDA hubs that hold out exciting possibilities for maritime cooperation right across the IOR.  These include, inter alia, the Republic of Singapore Navy's IFC (Information Fusion Centre), the Indian Navy's IFC-IOR (Information Fusion Centre-Indian Ocean Region), the European Union's CRIMARIO II (Critical Maritime Routes in the Indian Ocean) and the Regional Maritime Information Fusion Centre in Madagascar, etc.  It is critical that these hubs establish trust-intensive processes of cooperative and collaborative engagement and abjure competitive ones.
Towards this end, it is important for all stakeholders to have a clear understanding of what each of these MDA hubs do and, even more importantly, what they could do together.
Programme-
Time/Duration
Event
1030-1035 (IST)

(05 min)

Welcome Remarks

Captain Sarabjeet Parmar, IN,

Executive Director, NMF

1035-1045 (IST)

(10 min)

Opening Remarks

Admiral Sunil Lanba, PVSM, AVSM, IN (Retd),

Chairman, NMF, & Former Chief of the Naval Staff

1045-1055 (IST)

(10 min)

Opening Remarks

His Excellency Mr Ugo Astuto,

Ambassador of the EU to India and Bhutan

1055-1135 (IST)

(40 min)

Presentation on "State of Play" by CRIMARIO-II

Mr. Martin Cauchi-Inglott, Team Leader

David Nattrass, Information Sharing Manager

Sérgio Bryton, Information Sharing Expert

1135-1140

(05 min)

Stretch-break

Change-around of Presentations

1140-1220 (IST)

(40 min)

Presentation on "State of Play" by IFC-IOR

Captain Soumyajit Mohanty, Director

1220-1320 (IST)

(60 min)

Expert-Panel and Audience Interaction

Moderated by Vice Admiral Pradeep Chauhan AVSM & Bar, VSM, IN (Retd), Director-General, NMF

Panellist-1: Rear Admiral M Lokmanur Rahman, NBP, NGP, ndu, psc, Chairman, BIMRAD and ACNS (Logistics), Bangladesh Navy (Bangladesh)

Panellist-2:  Rear Admiral Kishan Kumar Pandey, AVSM, VSM, Indian Navy (Retd), Director Human Resources, Amity University Gurgaon (India)

Panellist-3: Colonel Mohamed Saleem, Commandant, MNDF Coast Guard (Maldives)

Panellist-4: Adm Ravindra Chandrasiri Wijegunaratne, WV, RWP & Bar, RSP, VSV, USP, NI(M), SLN (Retd), Former Chief of Defence Staff of the Sri Lanka Armed Forces, And Former Commander of the Sri Lanka Navy (Sri Lanka)

Panellist -5: Rear Admiral Wachiraporn Wongnakornsawang,

Expert Adviser to the Royal Thai Navy (Thailand)

1320-1330 (IST)

(10 min)

Closing Remarks

Rear Admiral Dalbir Singh Gujral, NM, IN

Assistant Chief of the Naval Staff (Communications, Space & Network-Centric Operations)

Total Time: 3 h 00 minutes, 1030 h to 1330 h [IST])