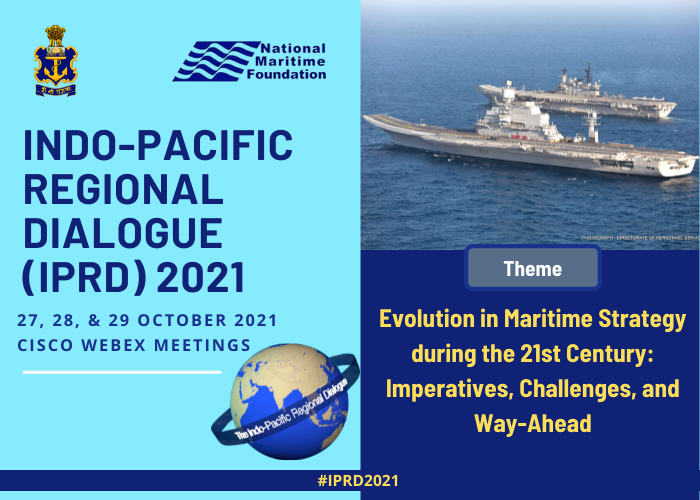 Indo-Pacific Regional Dialogue 2021 (IPRD-2021)
The 2021 edition of the "Indo-Pacific Regional Dialogue" (IPRD ), which is an annually recurring, apex-level international conference of the Indian Navy on maritime strategy, was held online over a three-day period, namely, 27, 28, and 29 October 2021.  The National Maritime Foundation (NMF) is extremely proud to have been the Indian Navy's Knowledge Partner and the chief organiser of this mega-event.
What each edition of the IPRD aims to do, is to review the prevailing geopolitics within the Indo-Pacific region and identify both opportunities and challenges arising from these geopolitical moves and countermoves of regional and extra-regional powers.  As such, not only is each annual IPRD central to India's own policy-formulation, it is also of lasting centrality to all other countries within the region, and, as such, its relevance can hardly be overstated.
The overarching theme for the 2021 edition was-
Evolution in Maritime Strategy during the 21st Century: Imperatives, Challenges, and Way-Ahead
IPRD-2021 comprised eight professional sessions that concentrated upon the following themes:
Theme 1:  Evolving Maritime-Strategies within the Indo-Pacific: Convergences, Divergences, Expectations and Apprehensions

Theme 2:  Adaptive Strategies to Address the Impact of Climate Change upon Maritime Security
Theme 3:  Port-led Regional Maritime Connectivity and Development Strategies
Theme 4:  Cooperative Maritime Domain Awareness (MDA) Strategies within the Indo-Pacific
Theme 5:  Impact of the Increasing Recourse to Lawfare upon a Rules-based Indo-Pacific Maritime Order
Theme 6:  Strategies to Promote Regional Public-Private Maritime Partnerships
Theme 7:  Strategies to Address the Manned-Unmanned Conundrum at Sea 
Theme 8:  Energy-Insecurity and Mitigating Strategies
These eight professional sessions were preceded by an inaugural session, wherein the Inaugural Address was delivered by Admiral Karambir Singh, PVSM, AVSM, ADC, IN (Chief of the Naval Staff, Indian Navy). Shri Rajnath Singh, Honourable Defence Minister, Government of India delivered the Keynote Address. Finally, the Welcome Address was delivered by Admiral Sunil Lanba, PVSM, AVSM, IN (Retd), Chairman, National Maritime Foundation, New Delhi.
The closing address was delivered by Vice Admiral R Hari Kumar, PVSM, AVSM, VSM, Flag Officer Commanding-in-Chief, Western Naval Command, Indian Navy.
You may view the day-wise video recordings of the three-day event by clicking on the links below: