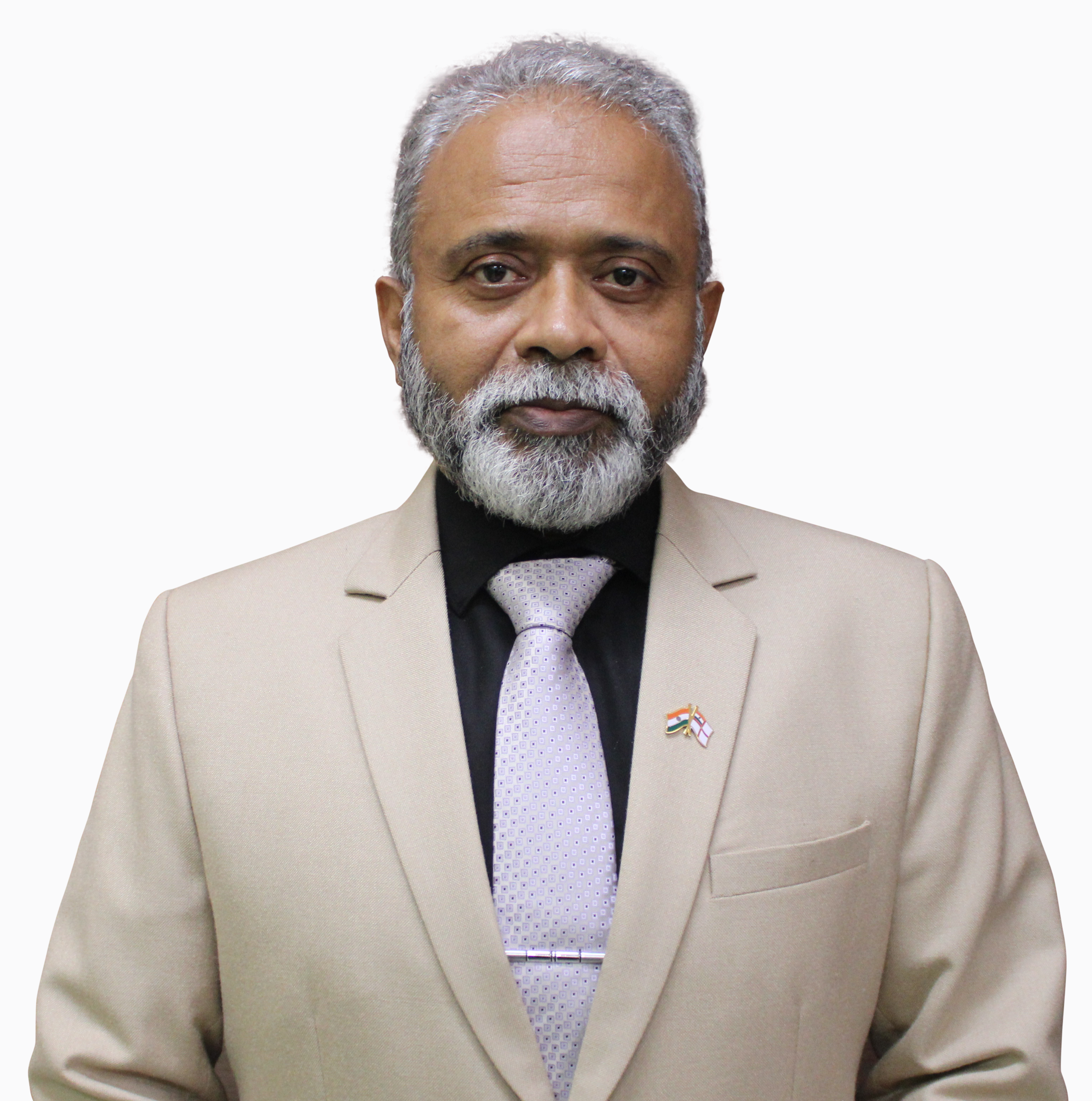 Commodore (Dr) Johnson Odakkal (Retd)
Honorary Adjunct Fellow
National Maritime Foundation
Areas of Research
Maritime Studies – History & Heritage, Geopolitics and International Relations
Nautical Knowledge – Ancient & Contemporary Marine Navigation
Experience
(a) Present Overview:
Commodore (Dr) Johnson Odakkal, is a Navy Veteran, Research Guide & Internationally Certified Growth Coach. His professional seafaring journey commenced in November 1982 aboard Training Ship Rajendra, 39 years ago & served the Indian Navy for last 34 years, with final assignment as Director Maritime History Society from 2015 to 2021. He has authored "Timeless Wake – The Legacy of Royal Indian Navy in World War II" in addition to many scholarly works. He has a PhD in Civics & Politics from University of Mumbai in addition to an MPhil and two MSc degrees.
His papers, articles and talks on Global Maritime Perspectives & India's Maritime Heritage have served to enhance maritime consciousness across a spectrum of academia and intelligentsia. Cmde Johnson handed over charge, in Aug 2021, as Director and Head of Research at the Maritime History Society, and superannuated from Indian Navy on 30 Sep 2021. He is an internationally certified John Maxwell Team speaker, teacher, trainer and coach.
Presently, Dr Johnson Odakkal is the CEO and Founder of Johnson Odakkal Initiatives which is a venture to enhance knowledge influence, provide effective growth solutions, and envision life navigation with life lessons from the sea.
(b) Additional Roles (Other than NMF):
Advisor, Freedom Museum Project by National Museum Institute under Ministry of Culture, Government of India [Since September 2021]

Advisory Council, Maharashtra Mahasangrahalaya Project [Since June 2021]

Teaching Faculty [Since 2016] & Research Guide [Since 2020] in Maritime Studies at Naval War College, Goa

Guest Faculty in International Relations and Maritime Dimension at Department of Civics and Politics, University of Mumbai [Since 2015]

Board of Studies [Since Jul 2021] & Guest Faculty [Since 2019] at School of Security Studies, Central University of Gujarat, Gandhinagar

Guest Faculty [Since 2016] in Maritime History at Indian Naval Academy, Ezhimala, Kerala
(c) Previous Naval Assignments:
Deputy Assistant Chief of Integrated Defence Staff (DACIDS) for Medium and Short Term Force Structuring at Headquarters IDS, New Delhi, Jan 2014 to Apr 2015. Undertook 12th Plan (Defence) Review and Upgrade in addition to Steering Assessment of Tri-Service Acquisitions
Director, Centre for Leadership and Behavioural Studies, Kochi, Apr 2012 – Dec 2013. Head of Training for Sub Lieutenant Technical Courses and Coordinator Behavioural and Leadership Studies
Director, Maritime Warfare Centre, Kochi, May 2009 – Mar 2012. Responsible for National Operational Naval Wargaming, International Maritime Legal Studies and Maritime Warfare Training
Deputy Director, Maritime Warfare Centre, Visakhapatnam, Jan 2007 – Apr 2009. Conducted Amphibious and General Wargaming for Naval Units at Eastern Naval Command
Staff Officer (Navigation and Aircraft Direction) & Training Faculty in Naval Operations at Indian Naval Work Up Team, Kochi, 2004-2006
Assistant Director (Training) & Faculty in Nautical & Oil Tanker Operations at Naval Maritime Academy, Mumbai, 1998-1999
Education
PhD in Civics & Politics, University of Mumbai, Apr 2016. Thesis Title "Effective Governance of Multilateral Maritime Military Operations – Implications for Contemporary International Politics

MPhil in Maritime Operations and International Relations from then College of Naval Warfare under University of Mumbai (Oct 2010)
MSc in Defence and Strategic Studies from Defence Services Staff College under University of Madras (Oct 2003)
MSc in Nautical Science and Tactical Operations from Navigation, Operations and Aircraft Direction School under Cochin University of Science and Technology (Dec 1993)
Publications
(a) Books
"Essays in Maritime Studies – Vol III" ISBN 978-93-85331-00-8, Published by Maritime History Society, Dec 2016

"Timeless Wake: Legacy of Royal Indian Navy in World War II" ISBN 978-81-908108-6-9 Published by Maritime History Society, Dec 2013

(b) News Media Articles
"Maritime Legacy : Priesthood of Peace," An article in bharatshakti.in on 02 Oct 2021
"Freedom at Sea with Navy & Nation Building," An article in bharatshakti.in on 09 Aug 2021
"Seafaring Tack from a Subaltern Narrative," An exclusive article in Sea & Coast July 2021 Edition
"Oceans and the Calm Cycle of Turbulence," An exclusive article in Sea & Coast June 2021 Edition
"Indian Navy Enhances Security and Growth for All in Indian Ocean Region: Anytime & Anywhere," An article in bharatshakti.in on 19 January 2021 and in Defence Minsters Conclave Brochure at Aero India 2021
"We must Unwrap Neglected Frames of Maritime History" An Interview towards the Cover Story in Anniversary Special Issue of The Week, 27 Dec 2020
"Exploring Unsung Frames in Maritime History" as a curtain raiser on 17 Nov 2020 to first National Maritime Heritage Conclave 2020
"India and the United Nations : Peace and Good Order at Sea" A Two-Part Article in The Daily Guardian on 24 and 26 Oct 2020