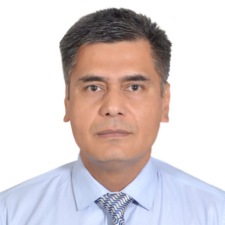 Commander Ranendra S Sawan
Research Fellow
National Maritime Foundation
Areas of Research
Maritime Studies – Pakistan, China, Russia and Turkey
Maritime Security issues in the Indian Ocean
Military Strategic and Operational Concepts Applicable to the Maritime Domain
Nuclear Deterrence
Experience
Commander RS Sawan graduated from the National Defence Academy, Khadakwasla and was commissioned in the Indian Navy on 01 July 1996. He is a Navigation and Direction (ND) specialist and has served onboard Indian Navy ships as Navigating Officer. He has also served in operational billets both afloat and ashore which include command assignments on ships as well as a staff tenure at IHQ MoD (Navy). He has been a Directing Staff at the Defence Services Staff College, Wellington. He has contributed papers and articles in various journals and was also selected as a Visiting Navy Fellow at the Sea Power Centre, Australia in 2020.
Education
Pursuing Ph.D. (Defence and Strategic Studies) from Naval War College (Goa)/ Mumbai University, Mumbai. Thesis titled ' India's Minimum Deterrence Posture in the South Asian Context : A Study on Credibility and Quantification '
MPhil (Defence and Strategic Studies) from University of Madras. Dissertation titled 'Quantification of Credible Minimum Deterrence Based on the Framework of Nuclear Deterrence Theory'
MSc (Defence and Strategic Studies) from University of Madras.
MSc (Nautical Science & Tactical Operations) from Cochin University of Science and Technology (CUSAT).
BSc from Jawaharlal Nehru University.
Presentations
Panellist, Panel-Discussion 1, Workshop with the Embassy of Vietnam, New Delhi, on Vulnerability of Maritime Zones and their Impact on Regional Stability and Economic Development
September 09, 2019
Panellist, Panel-Discussion 2, Workshop with the Ministry of Foreign Affairs of Japan, New Delhi, on Maritime Security in the Indian Ocean and the South China Sea January 30, 2020